Hello and welcome to the blog of SEO-HELFER! You have often heard the term "Virtual Assistant" and want to become a Virtual Assistant yourself part-time (or even full-time)? But you still doubt whether it is the right thing for you and whether you can really earn a living with it? Make yourself comfortable and let's find out together what virtual assistants do and what you can earn with them. First, let us deal with the terminology:
What is a virtual assistance?
Virtual assistants are usually freelancers who do their work from a remote location. They provide virtual support to businesses and self-employed individuals in completing administrative and organizational tasks necessary for day-to-day operations. This includes tasks such as managing emails, scheduling, research tasks, social media management, and more. To get the job done well, virtual assistants usually just need a good running computer, good Internet connection and maybe a phone. And, of course, have knowledge and skills in certain areas.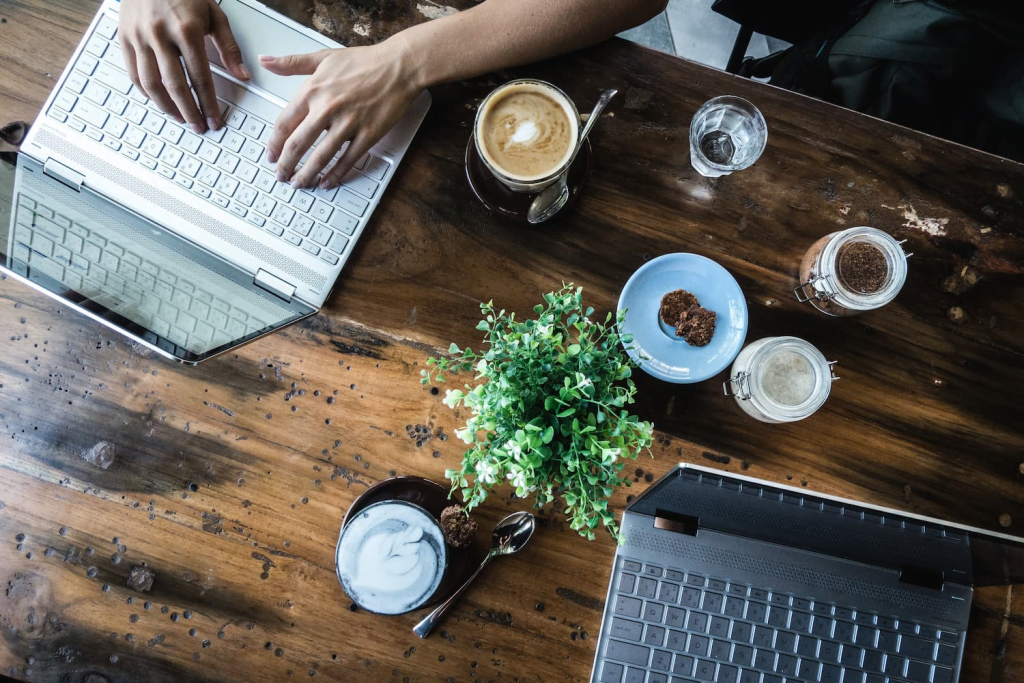 What does a virtual assistant (often simply called a VA) do?
What tasks can a virtual assistant take on? Virtual assistants perform a variety of tasks that can make your life easier. They can help organize daily life by making appointments, sending reminders, answering emails, making travel plans. They can also help in the management of the company by assisting one in the creation of reports, presentations and other documents. In addition, virtual assistants can help with research and information gathering, allowing the client to focus on core tasks. Clients are also often looking for virtual assistants for specific areas of online marketing. Particularly common are such VA jobs as:
📌Social media support of any kind
📌Video editing for YouTube, Instagram and TikTok
📌Newsletter creation
📌Lead Paid Ads on Instagram and Facebook
📌Responses of direct messages on social media
📌Leadership of Google Ads campaigns
📌Creating the graphics with Canva
📌Creating the pins for Pinterest
📌Copywriting for blogs and magazines
📌SEO copywriting for e-commerce, websites, products, services, etc.
Do you like writing texts? Do you speak and write at least one language perfectly? Do you enjoy creating good texts? Become a copywriter and offer this service as your personal expertise! If you acquire SEO skills in addition to a good style, you will always be in demand on the copywriting market and are guaranteed to earn quite a bit of money!
Want to learn SEO copywriting and make money as a VA? In a 2-3 hour workshop, I'll teach you everything you need to know about SEO copywriting. You can start a new chapter of your life today! You can find more info here:
Are you not particularly fond of copywriting? Maybe you are creative with the pictures? Then learn to use Canva and offer to create the graphics, newsletter and image editing! Nowadays, you don't necessarily have to study to be successful and work location-independently. There are so many courses, workshops and videos on the subject that you could jump right in in a few weeks if you really wanted to.
The advantages of the profession "virtual assistant
An important advantage of virtual assistance is flexibility and freedom. As a VA, you decide when you work and from where. You also decide how many hours you want to work and how many employers you want to have. You are your own boss when you work as a VA. Such a job is especially convenient for students, for mothers with small children and, of course, for frequent travelers. I personally love working with moms: they usually specialize in one area and have specific times available to work when the child is in school or sleeping.
I want to become a virtual assistant: does the profession have a future?
The demand for virtual assistants is steadily increasing. See for yourself the trend on Google Trends: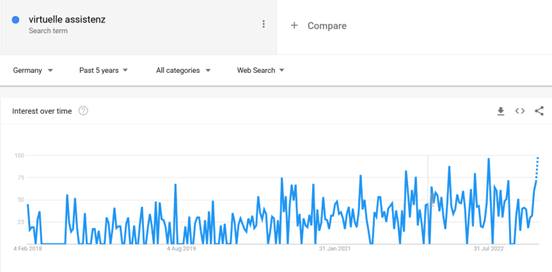 More and more companies are recognizing the benefits and are turning to virtual assistant support. Self-employed people and entrepreneurs in home offices also appreciate the support in completing administrative tasks.
What does virtual assistant earn in Germany?
The earnings of a VA depend directly on the field of activity. I would say that prices in Germany can vary between 30€ and 150€ an hour. Remember that in certain areas VAs from poorer countries can help out (where you don't need the language skills) and that naturally prints the price down. In Ukraine or Georgia, for example, a graphic designer earns 10-15€ per hour. Someone with English skills from India could just as easily run the social media campaigns or manage WordPress and only charge 15-20€ an hour. The German-speaking copywriters can hardly replace anyone, so they can charge between 5 and 15 cents per word.
Will AI tools replace virtual assistants in the future?
Currently, the coming of AI tools is hotly debated. What these tools can already do in part is simply incredible. They are used more and more and make one's everyday life easier. You may not believe it, but this post is also 30% written by an AI. But only 30%, the rest is my opinion and my skills. I think that in the future VAs will be in demand who can use an AI and use it skillfully. Because that makes them more efficient, faster and able to deliver better work. Even today, we already use a lot of tools to make our work easier. Why not more in the future? Our IT developers can now create a website within an hour using AI. Why not take advantage of this?
In the SEO workshop with me you will learn copywriting and SEO as well as how to work with AIs and how you can use them in your work as a VA. If you want to know more about it, here's the link to the workshop:
I myself like to use Open AI very much. I see the tool as my little intern: it can't do everything yet and it's not perfect, but it takes a lot of work off my hands.
Which I often use AI for in my work:
Research of the topics
Creation of headlines for Pinterest
Introductions for the texts
General ideas for different posts
Listings
Internal linking etc.
How do I find a job as a virtual assistant?
Nowadays, there are numerous freelancer platforms for all kinds of online jobs. Likewise, I would recommend Facebook groups for this. Along with the presentation after the SEO workshop with me, you will get a list of the best job platforms and Facebook groups for VAs and copywriting jobs in Germany and internationally. I would also recommend that you build your own online presence so that potential customers can find you: Instagram, TikTok, YouTube or your own website – anything goes!
In this post on my blog gute-sser.de I have compiled many good tips for finding a job as a freelancer and a list of over 20 freelancer platforms in Germany and abroad:
Another very good way to get VA jobs: cooperate with VAs from other areas and recommend each other. I mean: what works better than a recommendation? And if you're good at Canva, you probably know someone who can write copy, manage Google Ads, or set up targeting on Instagram well, right? So recommend each other! People like me, who run an agency and need a lot of different profiles, are very happy when they don't have to search themselves, but get a good recommendation.
And last but not least, don't call yourself a Virtual Assistant when you're building your Internet presence. Here's the thing: clients aren't looking for a VA, they're looking for an expert to provide them with a solution to their problem. There are over 2600 search queries per month in Germany in particular. Look here: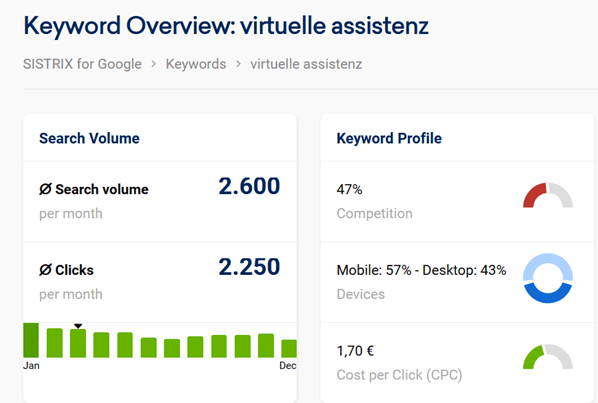 But who really searches for these terms and what do they want to find?
| Keyword | Search volume |
| --- | --- |
| virtual assistance | 2600 |
| virtual assistance job offers | 200 |
| virtual assistance hourly rate | 150 |
| virtual assistance without experience | 150 |
| jobs virtual assistance | 150 |
| portfolio virtual assistance | 150 |
| virtual assistance home office jobs | 150 |
| virtual assistance part-time | 150 |
| virtual assistance website | 150 |
| virtual assistance costs | 100 |
| what is a virtual assistance | 100 |
| what does a virtual assistant do | 100 |
| virtual assistance jobs part time | 100 |
| virtual assistance job | 100 |
| virtual assistant jobs | 100 |
What does this tell us? That those who want to work as VAs themselves are more likely to search for the terms and not the potential employers! Employers would search directly for the specific area by having a problem and thus look for a specialist. Say you're a social media expert, an SEO copywriter, a Canva designer, that way you'll most likely find a job in your field faster and can work as a "Virtual Assistant".
Do you have any questions on "Virtual Assistance"? Or would you like to know more about workshops?
Here you can contact me without obligation:
Articles that might also interest you:
💻SEO agencyin Barcelona
💻How torecognize a good SEO agency?
💻Whatdo you do in an online marketing agency?
The most important questions and answers at a glance
What is a virtual assistant?

A virtual assistant is a freelancer who does her work from a remote location, helping businesses and self-employed individuals complete administrative and organizational tasks.
What tasks can a virtual assistant perform?

Virtual assistants can handle a variety of tasks, including email management, scheduling, research tasks, social media management, and more.
How much can you earn as a virtual assistant?

The earnings of a virtual assistant depend on many factors, including the scope of duties and experience. In Germany, prices can vary from 30€ an hour to 150€.
Does the profession of "virtual assistant" have a future?

Yes, the demand for virtual assistants is steadily increasing as more and more companies recognize the benefits of this form of work and rely on it.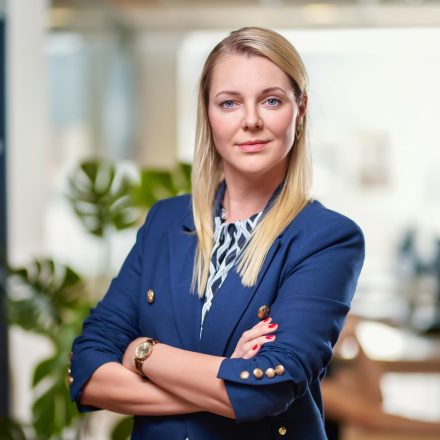 About

Olesya Franiel

Olesya Franiel arbeitet bei uns seit 2012 als SEO-Expertin und und ist neben der Geschäftsführung für die Ausbildung der SEO-Mitarbeiter im Team verantwortlich. Zudem betreut sie internationale Kunden im Bereich SEO und gibt SEO-Workshops für externe Redaktionsteams und Freelancer. Olesya spricht fließend 5 Sprachen!